The Ultimate Guide to Hiring a Wedding Videographer in Colorado: 9 Essential Questions
June 3, 2023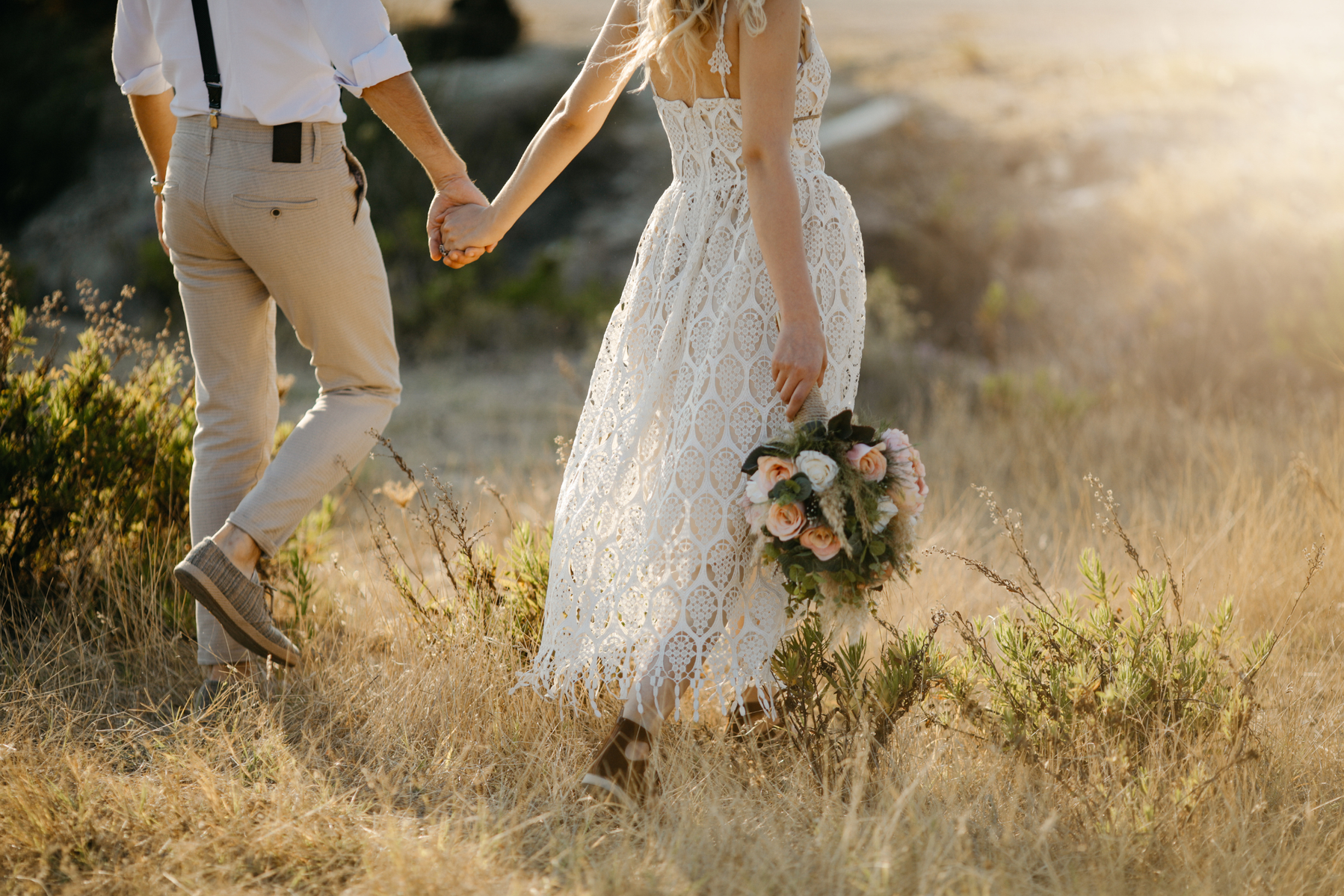 If you are here, it must be because you are getting married. Congratulations on your engagement! As you plan out the details of your big day, one thing to keep in mind is your choice of a wedding videographer. A wedding film is a beautiful way to capture all the unique and beautiful moments of your wedding so that you can relive them for years to come. And if you're getting married in Colorado, you're in luck! This state is home to some of the most beautiful locations in the country.
1. Can I See your work ?
The first thing you need to do is ask to see some of your potential wedding videographer's previous work. I'm sure that if you are meeting with a wedding videographer, you have already seen their work through Instagram or a website. In my opinion, it is always better to look at a full-length video. This is the only way to get a sense of their style and see if it aligns with your vision for your big wedding day. As a wedding filmmaker in Colorado, I love showcasing my previous work to potential clients through my Instagram and website. I'm always happy to share a portfolio of my wedding films to give my clients a better idea of my style and approach. Remember to research and compare. You can start by researching a few wedding videographers in Colorado and comparing their work. Please be sure to look for a style that resonates with you and your partner. Do you prefer a cinematic look or a documentary style? Do you want a lot of close-ups or more wide-angle shots? There are many talented wedding filmmakers, so your decision may be based on personality, connection, and budget.

2. What's your experience with weddings?
Experience is essential, but you can tell if a videographer is good or not by their work. You can ask questions like, "How many weddings have you filmed before?" or "Can you walk me through a wedding day and how you get everything done?" It is vital in weddings to understand the importance of composition, lighting, storytelling, and being unobtrusive while capturing all the critical moments. People always say, "Oh, I didn't know you were filming me." These are the most valuable moments when no one is looking while you are capturing the moment.

3. Will you be the one filming on our wedding day?
If you plan to hire a Nationwide wedding video company, ask them if you can see the videos from the videographer assigned to you. I have heard countless stories about big wedding companies offering unrealistically low prices for wedding videography and photography. Still, the quality is lacking at the end of the day because they are most likely paying their videographers very little. Before paying or giving any deposit, you need to know who is filming your wedding because once you sign the contract, they will assign you whoever they want. For example, when I worked for Tolman Media, I heard stories from videographers and photographers that the company would scramble to find someone to film weddings at the last minute. I would not recommend using these kinds of companies for your wedding videos, as I experienced the consequences of their bankruptcy. I had to tell the brides they were scammed when Tolman Media went bankrupt. Tolman had taken their deposit, and I was left without enough funds to cover the filming and editing process, which was their responsibility. The worst part is that the brides couldn't get their deposit back because they had reserved over a year ago, and it is practically impossible to retrieve the money through credit card companies after six months of purchase. If they had paid through their checking account, it was even worse. I felt terrible watching the brides being taken advantage of. That's why choosing a reliable and trustworthy wedding filmmaker for your special day is essential. Don't make the same mistake as these poor brides! So be careful; if you are trying to save money, it can cost you more. Know who is filming your wedding or who is part of the team. You must know who will capture your memories on our special day, so you should always ask to see their work beforehand. In my case, I am a solo wedding videographer in Colorado, so I am the one who will be capturing the wedding day. If I were to hire someone to work on my team, I would have to make sure that this person is perfect for the role and that we have similar values, skills, and love for the work that we do.
4. How do you handle audio?
I don't know why many ignore audio, but it is as important as the film. If someone is charging you separately for audio, it's a red flag because that means they're willing to give you footage that's only half as great as it could be for the cost. As a professional wedding filmmaker in Colorado, I use high-quality audio equipment to ensure that every word of your vows and speeches is captured clearly.Audio is a crucial element of your wedding video, and it's the only way for me to deliver something beautiful and meaningful that captures moments in time.

5. What's your turnaround time?
Delivery time can be up to 90 days or more, depending on the wedding filmmaker you're working with. You can just ask this question and make sure it's stated in the contract about the time frame for receiving your videos. But a professional filmmaker will take a good amount of time tailoring the video edit to match the couple's style with music, audio, etc., which sometimes takes time. In my case, I try to deliver always before the 90 days, but I give myself breathing room just in case something comes up. I understand how exciting it is for my clients to relive their special day through their wedding video, so I try to surprise them by delivering before they expect it. Your final wedding video edit must reflect your unique personalities and love story.
6. Do you have backup equipment?
I think every wedding videographer should have a backup camera. So, you need to ask this question because if something goes wrong on the day of your wedding, the wedding videographer will have an extra camera to capture everything. Plus, you want to make sure everything gets captured. Honestly, the chances of a camera breaking down are 1 out of 10, but it does happen, so it's always better to be safe than sorry, right? I have filmed so many weddings, and I haven't had the experience where a camera breaks down. But either way, I always come prepared with backup equipment to ensure that I am able to capture every moment of your special day.
7. What's included in the package?
Most videographers should have detailed packages with what you are getting, and if they don't have one, then it's a red flag. A professional wedding videographer should have taken the time to specify everything you are getting according to the package you are inquiring about. As a wedding filmmaker in Colorado, I offer simple and detailed wedding filmmaking packages designed specifically to give you exactly what you expect from me, which is an epic love story film.
8. How do you handle payments?
I wouldn't trust anybody who asks you to Venmo or Cash app a deposit without a proper proposal or contract. Let's be honest, we are in an era with so many tools available for filmmakers to use systems that allow you to make secure payments. It's very simple; if you are serious about what you do, you should have a platform where clients can make payments right after signing the contract. Ensure you read the fine print in the contract because once you send a non-refundable deposit, it's hard to get the money back unless there is a valid reason mentioned in the contract. As a professional wedding filmmaker, I believe in transparency regarding payments. I am always happy to discuss payment deadlines and methods with my clients to ensure that we are both on the same page from the beginning.
9. What equipment do you use?
Always ask the wedding filmmaker what equipment they use. A wedding videographer's equipment makes a big difference in the quality of your wedding film. You have to ensure your videographer uses professional-grade cameras, microphones, and lighting equipment. The most popular cameras that I see videographers use are Sony and Canon. Always ask them if the final result is 4K or HD. HD stands for "high definition," while 4K refers to a resolution that is four times higher than HD. Using HD video instead of 4K video is not a deal-breaker because HD video already has excellent resolution with a clear and sharp image. While 4K video is even better, the difference in quality may be insignificant. Plus, you may not notice the difference if you are not watching the video on a 4K screen.
Wedding filmmakers can still create a fantastic video without using 4K, and it's not a deal-breaker if you choose to use HD instead. But it's essential to know the difference. In my case, I switched to 4K in 2023 because technology is rapidly changing, and I think it's important to give my clients the most advanced digital video technology. Okay, that's the end of my blog, and if you're considering hiring a wedding videographer, let me tell you that it's an important decision whether you're looking for something unique, memorable, beautiful, or budget-friendly. This is where these questions come in handy because they can help ensure that you're hiring the right person for the job and your budget. I am passionate about creating wedding films that are as unique and special as each couple I work with. Your love story deserves to be told in a way that reflects your connection and love for each other, and I use the latest technology to capture every moment of your big day. From the first look to the last dance, I am committed to creating a wedding film that you'll treasure for a lifetime. So, if you're looking for a wedding videographer who will go above and beyond to make your vision a reality, choose Voir Videos.